Welcome to Strengths Week at University College for the Summer I Session! This week we look forward to focusing on how to put your strengths into action at work and in the classroom.
A recent Gallup study found that people who use their strengths every day are six times more likely to be engaged in their work. Examining the connection between strengths and employee engagement in the workplace, Gallup reports that focusing on strengths is a more effective approach to improve performance.
Recognizing and applying your strengths to your work—whether that be a place of employment, the classroom, your ministry, or your home responsibilities—is a practice for success. It is important to understand how your strengths impact your motivation and performance, as well as how they influence your interactions with others.
To provide you with an example of how strengths can be applied at work, University College interviewed several of our staff members about their own strengths. As you watch the video, think about your own place of "work" and how you can be better engaged by utilizing your talents.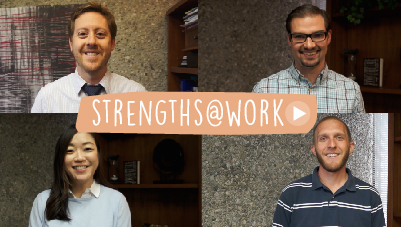 Share with us how you are using your strengths at work by posting to University College's Facebook or Twitter accounts using the hashtag #StrengthsWeek.
We look forward to our conversations this week as we reflect on your strengths and how to apply them. Please contact your success coach with any questions. To watch the video again and catch up on past sessions, visit the Strengths Week website.
John Hibbard, Ph.D.
Director of Student Success